Well a bunch of stuff has happened since I last updated; the most major being that I am now a married man! The wedding was the most amazing day and truly the best day of my life.
On the poker side of things I've had a bunch of big cashes, including my first profitable WSOP trip! This blog is going to focus on my most recent trip to WPT Nottingham as it is still somewhat fresh in my head.
WPT High Roller
Thanks to the one flight a day from Dublin to East Midlands my day was off to a 5:30 start and trip to the airport, I was in Nottingham by 10AM and managed to blag early check in at my hotel and catch some zzz's, result!
Day 1 was pretty uneventful, I managed to avoid many difficult spots at a tough table and found myself chipping up steadily,
The one annoying spot I found myself in was a hand right at the end of the day against a very tough opponent and good friend of mine Dominik Nitsche,
We are 6 handed and I raise to 3600 from HJ+1 at 1600/800/200 with


,Dominik calls from the big blind.
Dominik checks, I bet 4200 and he calls.
Turn is 

 Dominik checks and I check behind. At this point I am pretty much done with the hand.
The river comes 

 and Dominik checks, obviously I'm going to value bet, but I think the sizing decision is pretty interesting. Dom's hand is mostly likely a 6 or a straight draw than picked up middle pair with the 8. Most of my range for betting the river is exactly Kx and a few bluffs. As I don't think I'm bluffing a lot on the river and choosing a polarized range to bet with I decided to bet 18,200 into a pot of 18,000.
I think this puts Dom in a tough spot with his entire range although I obviously wanted a call in this spot versus a fold. Alas Dom chose to pick option 3 and after about 30 seconds go all in for ~50,000. While I hadn't really discussed this possibility the thought had crossed my mind, nonetheless as I saw it as extremely unlikely for the following reasons.
I expect Dom to have a check raise range on the flop.This includes both very good hands that would play the river this way such as 43, flopped sets and bluffs which would have turned a straight with 97.
I expect Dom to have a pair on the river almost always. I mostly expect him to call or fold against a polar range. The bottom of his range, missed flop flush draws,would probably just bet out themselves on the river as he'd expect me to check behind on the river with all of my ace and queen high hands.
I now found myself in a very tough spot, I'm getting a fantastic price on a call having to call only ~30,000 more to win a pot of over 85,000. I'm also basically at the top of my range. This isn't a turn texture I'd be slow playing many hands at all and this hand has actually made me think about further balancing here against a great player like Dom.
Although I think I should probably call from a game theoretical point of view I really didn't feel like Dom was bluffing quite enough here, although I was very aware he is capable of it. I'd be interested to hear any of your thoughts on the hand and what you would do.
Despite this set back I ended the day with a little over double my starting stack and put myself in a solid position to make a run on day 2.
Day 2 start off poorly but I managed to spin it up to 160k from the 100k start of day stack with some well timed bluffs and busting the legend that is Mike Sexton when he ran his KQ into my aces.
My fortune would not continue and the whirlwind trio of AK, KK and 40 big blinds culminated in a clash with Oliver Price that I did not win, busting in 16th with 7 paid. Still delighted with how I played and a big shout out to Dusk Till Dawn for having the balls to put a £300k guarantee on an event like this, they managed to make it exactly!
Main Event
I jumped straight into the main event and immediately recognized quite a few faces; Gaelle Baumann, Michael Mizrachi, Paul Vas Nunes and Marvin Rettenmaier. The rest of the table was made up of a combination of pros and amateurs and I felt pretty comfortable.
I lost about 8,000 from my 30k starting stack when the following hand came up I found pretty interesting.
I raise to 900 at 300/150/25 with black TT from UTG. Gaelle Baumann 3bets me next to act to 2500. Paul Vas Nunes and a Russian amateur (I played with him day 1 of the high roller, he played very tight) calls from the small blind. I call and we all see a flop of
Everyone checks.
The turn is the 

 and the small blind bets 5500. I think this is a pretty easy call based on my pot odds, implied odds and position. Gaelle folds and Paul overcalls. At this point I am 100% sure I do not have the best hand, for sure the small blind has me beat more often than not and Paul definitely has at least TT, more likely JJ or QQ.
The river is a pretty looking 
 bringing in all obvious draws, sadly except mine. The small blind looks unhappy and checks and I think I have a pretty mandatory bluff spot. Paul almost always has a better one pair hand on the river, I don't think he's calling preflop with 66 or almost any suited hands, equally if he did flop hearts he'd have to check back the flop which while possible also adds to the unlikeliness.
The small blind never has a flush and would not cold call preflop with JTs (I also block over half the combos just in case) his strongest hand is a set which has a very tough call on the river. It's really hard for me to have a bluff on the river and I'm also the only player that has all the combinations of 66, JTs and 76s in my range.
I shove the river for 15.5k and Paul folds what he later told me was QQ after about a minute. The small blind tells the how table how sick it is and eventually folds. I resist the urge to show the bluff only to tell the world about it now, woops.
The rest of the day was very rollercoaster with me being down to as little as 5k. Fortunately I doubled up and never looked back ending on 87k from the original 30.
The Cash Game
Usually I'd be one to rest up after a long day at the office, but when asked if I wanted a seat at the £25/10/5 game in Trickett's room I jumped at the chance. The game itself was unremarkable for me and I ended up staying until the game broke, ending up a small loser.
The one thing that was NOT unremarkable though was the following hand. It ranks by a long way as the craziest thing I have ever seen at the poker table.
I fold under the gun with 2 cards and the hand starts off usually enough. A raise to 100 followed by 3 calls including Rob Yong in the small blind. The big blind then squeezes to 450. Everyone calls to Rob in the small blind and Rob starts tanking and talking. Now unbeknownst to me Rob and the big blind had quite a bit of history at the poker table leading to some hard feelings between them. After about 6 minutes of Rob tanking and talking obviously getting on the big blinds nerves Rob goes all in for £8.5k effective. The big blind calls and then the original raiser, an amateur who is here just to have fun decides to join the party and call too for £8k! The other 2 players fold and we have an epic showdown.
The flop runs out with an  8 on it and the big blind scoops a ~£26k pot. Madness.
WPT Day 2
I had a day off between 1a and day 2 and took the time to catch up with some friends and get an early night. This early night would be my downfall as some issues following a removed wisdom tooth the week prior combined with a messed up sleep schedule following the early flight culminated in me waking up 2 hours later unable to get back to sleep again.
This tiredness turned a flop cooler with AQ vs Ludovich Geilich's KK on a queen high flop into a nightmare when I made a river value bet that was far, far too thin. Ludo made an easy call with top set and I was crippled, to be out shortly after. It's rare I'm so unhappy with a play I make and to bust an over average stack in a soft field in that fashion was almost criminal.
2k 6-Max
I'm a big believer into turning mistakes into positives and went back my apartment to try and get some sleep before the six-max. I tossed and turned and while unable to get any sleep did feel a bit more rested. I resolved to head to the venue and late reg the six max tournament, planning on not re-entering until the next day turbo day 1 if I busted.
Generally late regging these fields is never a great idea and I was quickly rewarded with one of the tougher tables in the room. My Notts flatmate and buddy Stephen Chidwick directly on my left, never a great spot. We were also joined throughout the day by players such as Zimnan Zimyardi, Ilan Boujalaneh and JP Kelly. I managed to make some hands and basically get every key decision right with a combination of good fortune and good play.  I slept like a log going into day 2.
Day 2 was off to a great start and I quickly found myself as the chip leader going into the bubble. I was able to punish everyone with ease and found myself in a great spot once the money burst and we combined down to a final table of 7 players.
In 6-Max tournaments the cream usually rises to the top and it was a tough final table consisting of
Myself
Ram Vaswani
Jack Salter
Nick Hicks
Thomas Dunwoodie
Roberto Romanello
Willie Tan
Jack was first to bust and after this the pace of play really slowed. Willie and Ram were pretty short stacked with some pretty hefty pay jumps everyone was rightly playing a style to minimize busting. I soon found myself playing second fiddle to Nick Hicks and quickly realized applying the pressure at this point would be suicidal so decided to sit back and wait for a couple bustouts. This combined with losing a few pots meant I found myself shortish after Willie busted.
I then became a master of getting it in bad and getting there. KQ>AK of Robert who busted shortly after then after doubling up Ram 99<AK doubling up twice more A5>AT and A7>88.
4 handed play would go on for almost 2 hours and everyone was getting tired at this point. I was also in danger of missing my flight which was taking off in about 3 hours time.  It seemed like the dealer was incapable of dealing a single even semi-cooler with 20 big blind effective stacks. Finally we found the cooler everyone craved and Thomas would bust in 4th. I shoved 5s2s into Ram's A9 blind versus blind and won to go headsup.
Some good hands and well timed aggression saw me quickly erase any deficit and put Nick at a 4-1 disadvantage. We played some fairly standard 10 big blind push fold headsup poker for a while before I shoved K3 of spades into his 99 and turned a flush to win the whole thing. It was past 4AM at this point and while I'd usually go and celebrate I had a flight to catch in 2 hours! I rushed back to my apartment to pack up and straight to the airport trophy in hand.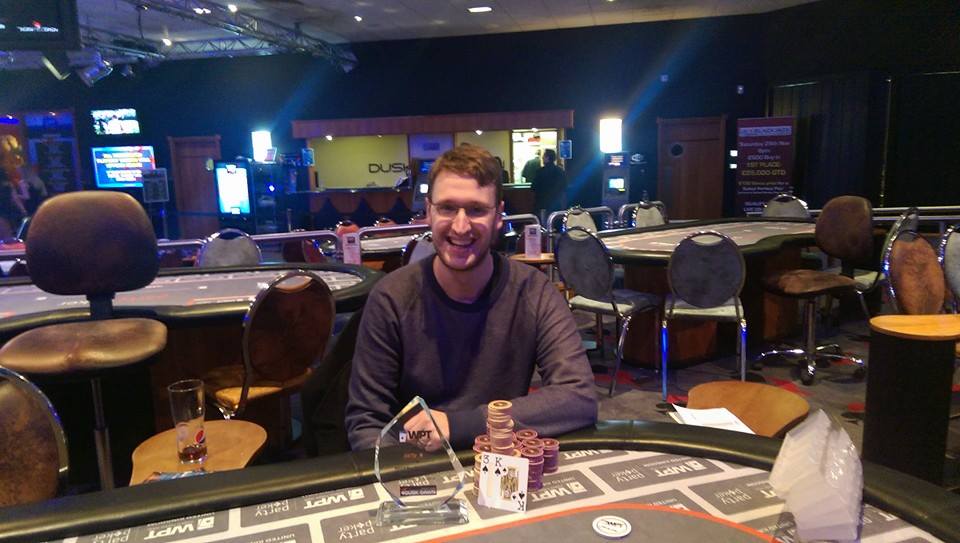 Thanks a ton to DTD and the WPT for putting on a great series! Really nice to see a big guarantee for a big buyin event and have it made. I'm off again to Prague in a couple days where I can hopefully beat last years 6th place finish.