Well I've just come off my single biggest losing day in my poker history and I feel…. Ok. I said in the last blog I'd recap my LA trip and UKIPT Galway win but right now I feel like writing about current events. The next blog post will be poker I promise!
If you wanted to read about poker you'll be disappointed but one of the other big passions in my life is food and last night I had one of the best if not the best meal of my life at Dax restaurant  in Dublin. I was fortunate enough to be able to make a last minute reservation and along with 2 of my friends, David O Connor (@DeeOhCee) and Chuck Fabian (@chuckfabian), we took the LUAS up to Stephens Green and made the 5 minute walk to Dax.
The atmosphere and service was pretty spot on, straight away they checked our reservation, took our coats and had us seated within about 60 seconds. A couple minutes later a waiter arrived with menus and opened with "Are you interested in the tasting me-" and before he could finish we all chimed in "Yes!". I had seen the 6 course "Surprise Tasting Menu" on the website and already knew thats what we wanted; the fact that we went for the tasting menu straight away seemed to please our waited immensely and when we accepted the wine pairings he beamed even more.
A lot of the food I will not be able to remember every intricacy of it but I will do my best. Also as you will see below, a couple of times I forgot to take a picture until after I had started eating so forgive me, it was that good.
Course 0: Butternut squash soup with a salty foam.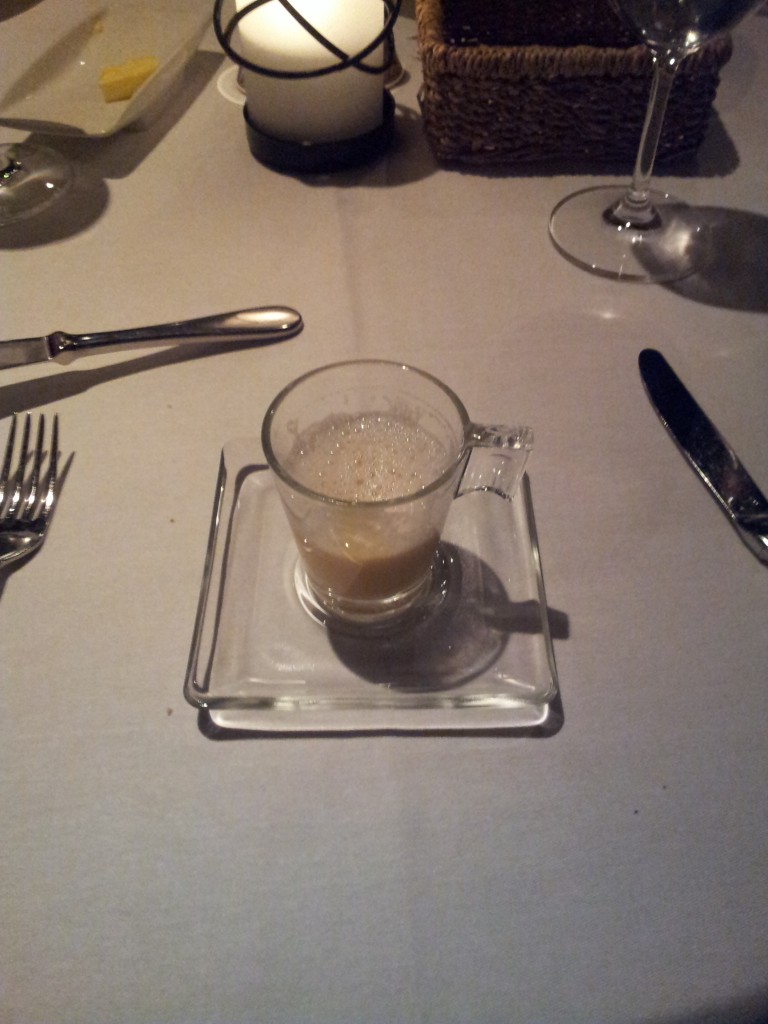 This was a really good opener, great warm flavors and a really good sign of things to come.
Course 1: Scallop Sashimi topped with Caviar, accompanied by Rhubarb Jelly with a lime citrus dressing.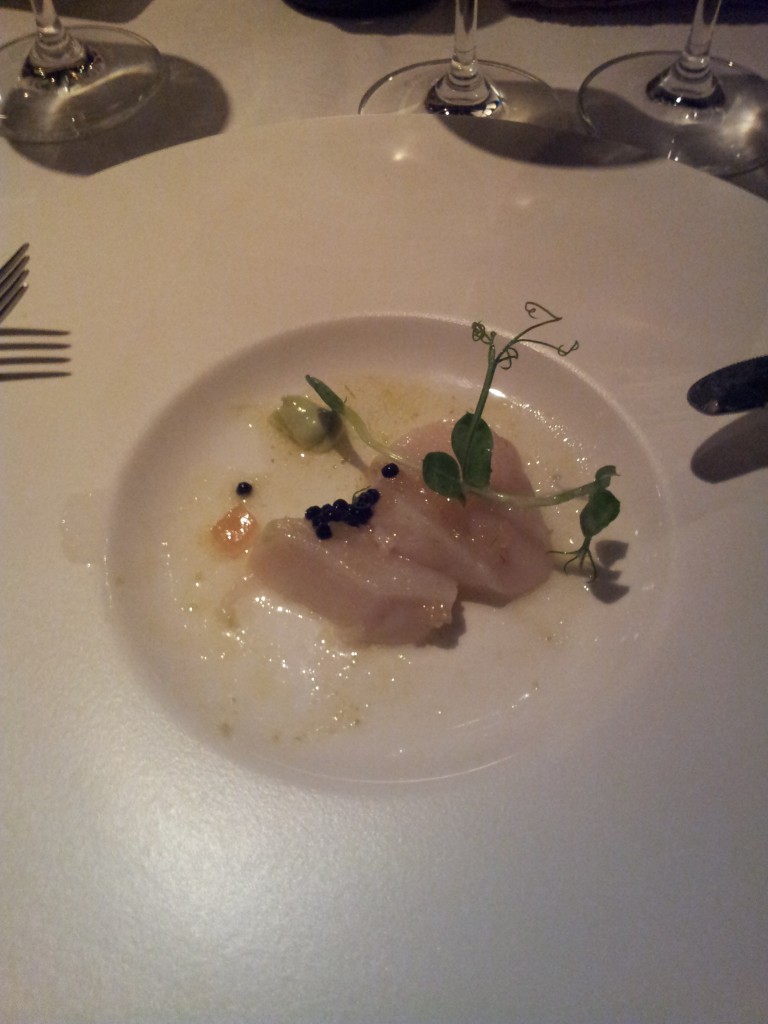 I've never had raw scallops before but I was impressed, the citrus dressing complimented it really well. I've also never had caviar before and have to admit I couldn't really taste it, but the texture was spot on and really added to the dish.
It was paired with a delicious white wine with a nice smooth finish, I'm not much of a wine connoisseur so I've forgotten everything they told me about all the wines.
Course 2: Foie Gras with candied orange peel, essence of orange sauce, an orange jelly and a ginger remoulade. Served with fresh warm gingerbread.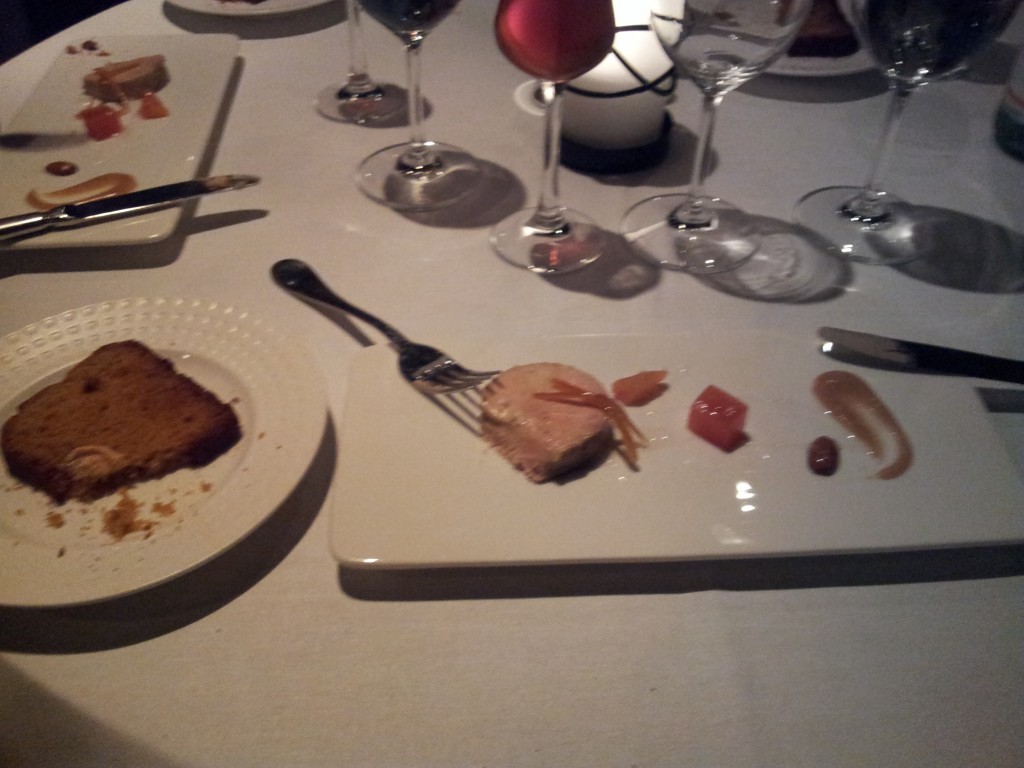 This was an awesome dish, the foie gras paired perfectly with the orange and gingerbread. My only complaint was that the bread was a bit too soft, it fell apart when you tried to spread the foie gras on.
The wine pairing was the only one I wasn't sure about, it was a sweet red, which was so sweet it actually tasted very plum wine like. It paired really well with the dish initially but eventually tasted stronger and stronger, ending up with a liquerish taste towards the end.
Course 3: Seared Tuna with a sesame seed crust, parma ham and red pepper slice. Dressed in an olive oil dressing.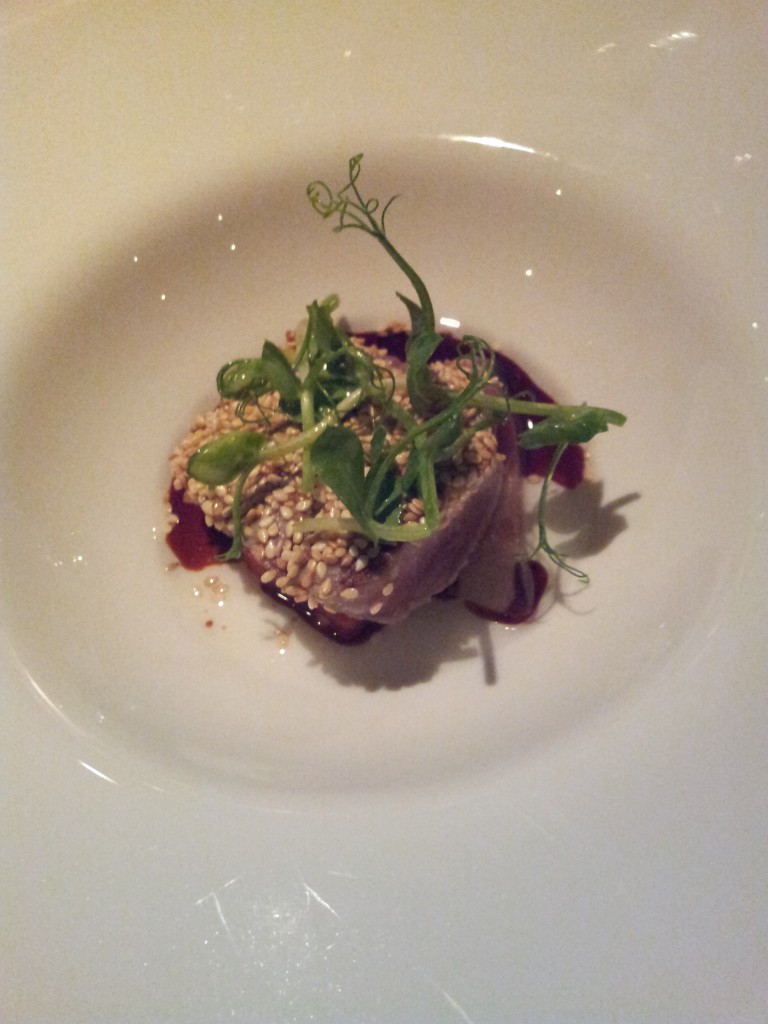 The theme of the night so far was obviously fish and when this course was announced I was a bit unsure, I'm not the biggest fan of tuna (although its great when in sashimi). This was my favorite fish dish of the night, it was seared perfectly and basically raw in the middle. The sesame seed crust added a much needed bite to the dish and gave it great flavour and when combined with the parma ham it was divine.
This was paired with another great white wine.
Course about 3.50: Raspberry Sorbet topped with Rosé Champagne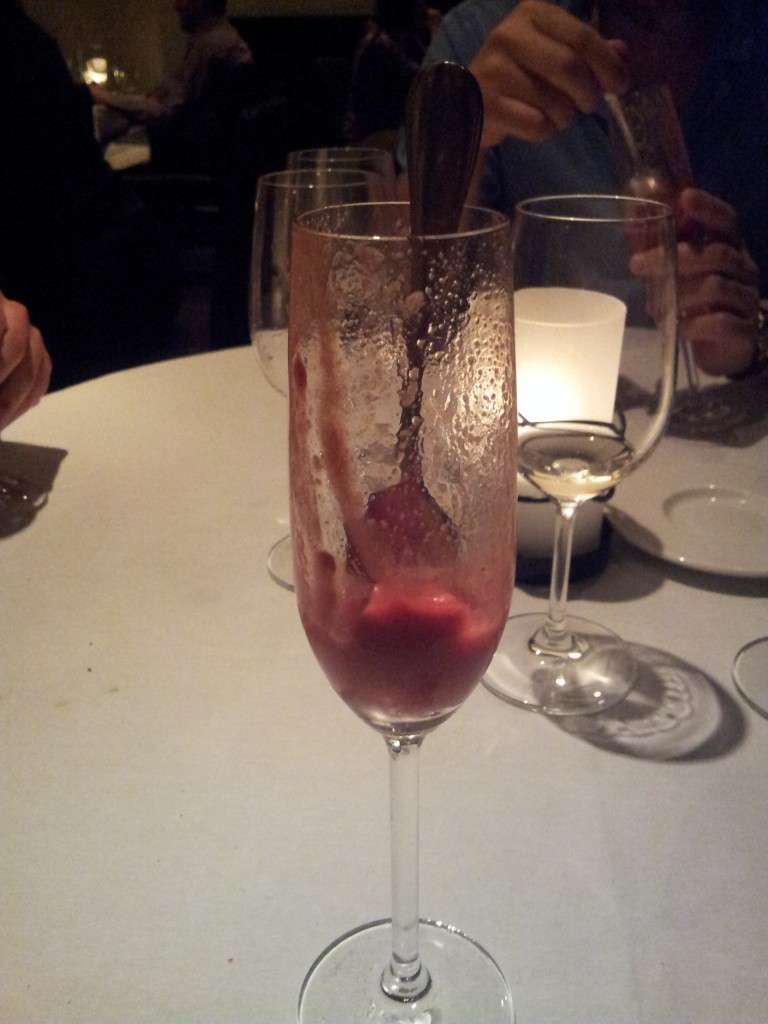 This course terrified me only that I thought we were done with the main courses and moving onto desserts, it turned out to be a neat little palate cleanser, unfortunately as you can see the picture I drank the champagne already.
Course 4: Grilled Sea Bass with ratatouille, anchovy, potato thingy and black olive foam.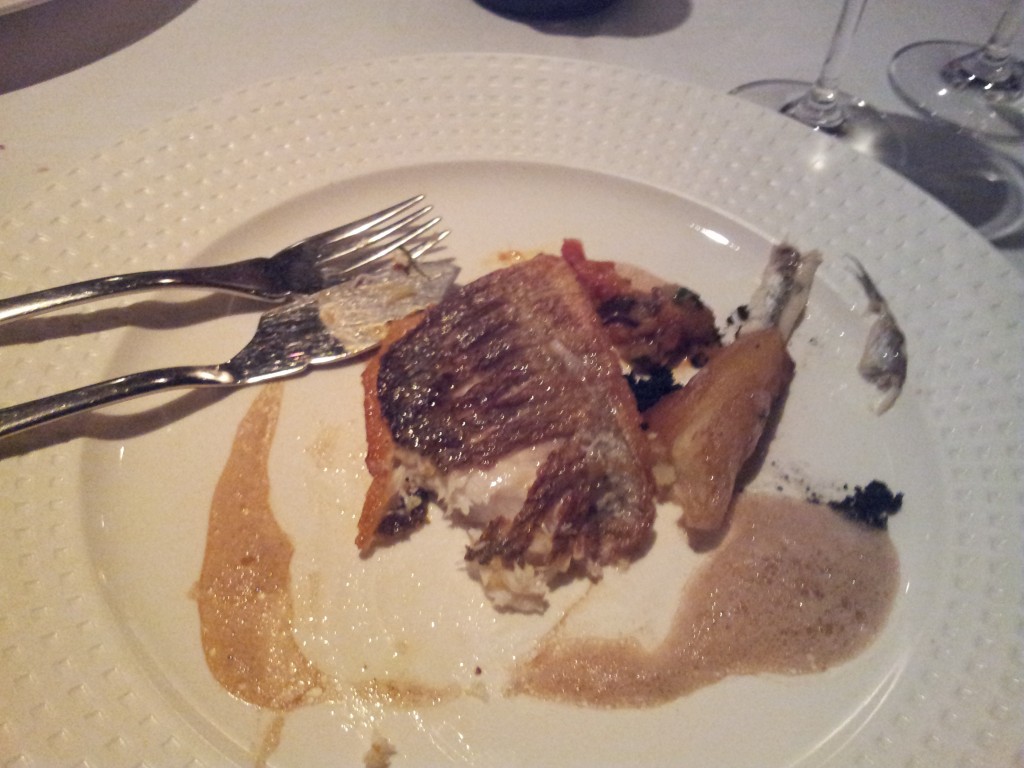 More fish?!?!? Again, not the biggest fan of sea bass but this was really good. The skin was really crispy and when combined with the ratatouille the flavours were great. I'm not big into olives but the foam was nice and added to the dish.
Paired with another nice white.
Course 5: Suckling pig with black pudding stuffing, accompanied by roast garlic and onion, a celeriac puree and a red wine sauce.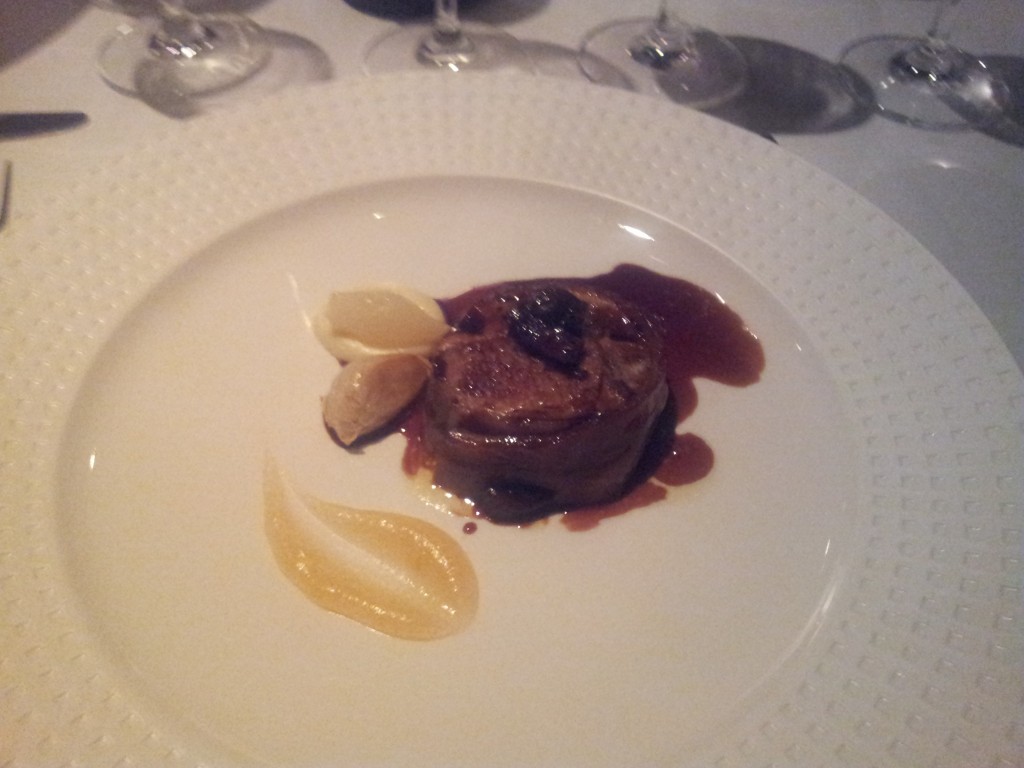 At this point I was sure we were done with main courses and sat resigned to the fact that I'd end the night without having any red meat. Thankfully I was wrong and what a way to be wrong! This was my favorite dish of the night, the black pudding stuffing worked incredibly well and gave it a really rich flavor. When combined with the celeriac puree the whole dish was just really well balanced.
This was paired with a red. I don't drink red wine at all ordinarily but this just worked with the dish. Hopefully I can expand my wine tasting horizons if its accompanied by more delicious food.
Course 6: Coconut cake with a coconut cream, accompanied by raspberry sorbet, coconut powder and a coconut infused cherry.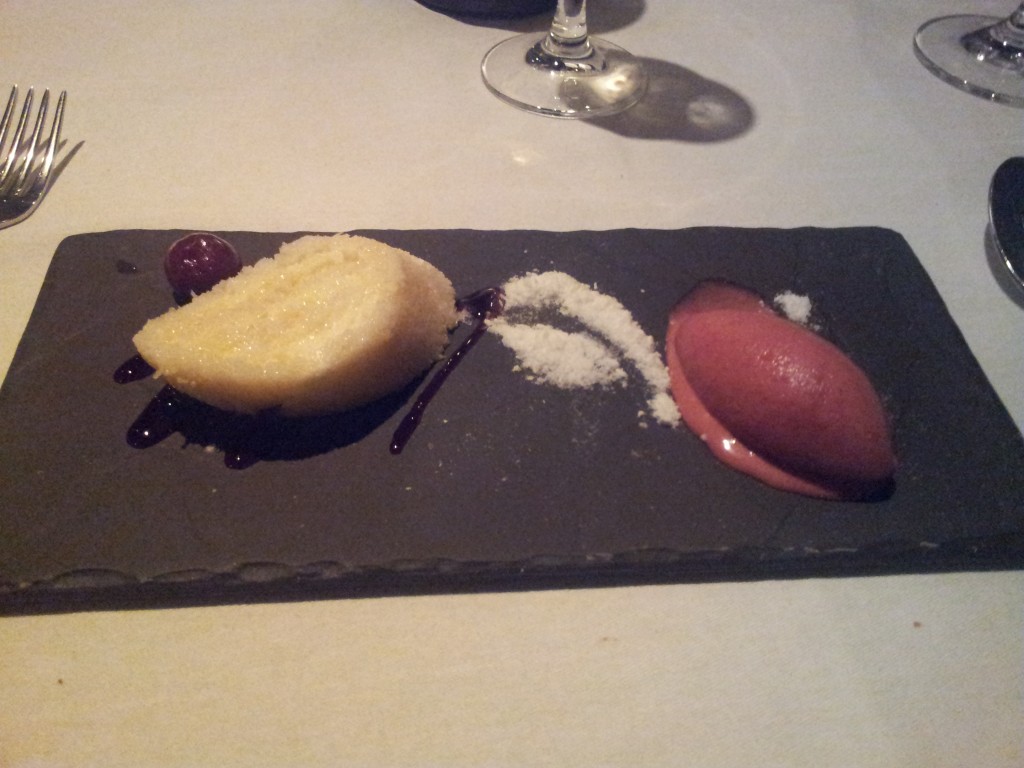 Holy Batman, COCONUT! I'm going to preface this by saying I've always hated coconut, probably stemming from the first time I ever touched alcohol being coconut flavored malibu. This dish was ok to good, the coconut turned out to be pretty harmless and it was sweet enough that I liked the dish. The sorbet was more of the same and paired well.
This was paired with a sparkling sweet white, when on its own it was pretty sweet but when drunk along with the dish it gave it a real feel of champagne, my favorite wine pairing of the night.
Course 7 (!): Chocolate Mousse Cake with Earl Gray ice cream and a Liquorice Gel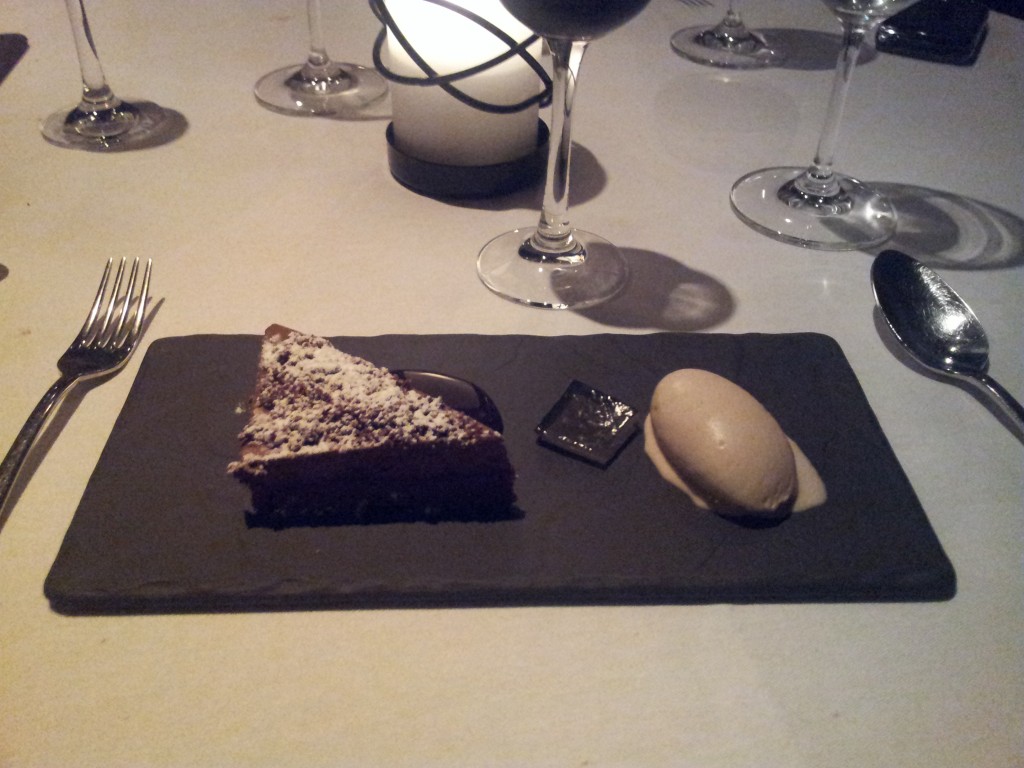 Just when I thought I was out, they pull me back in……… (Youtube)
My favorite dessert of the night, the mousse cake was incredibly rich but also superbly textured. Soft mousse at the top turning into a cakey middle with a crisp finish on the bottom that gave it a great crunch. The ice cream was really unexpected and tasted pretty much like you'd imagine, it went well with the cake though.
The wine pairing was another sweet red and much better than the first, with none of the overpowering taste of alcohol .
Bonus Course: Tiny cakes!
I had 2, they were good. Not much to say really.
Overall Impressions
The meal worked out at €140 per person with tip, expensive but in my eyes incredibly worth it for just a night of super food, wine and great service. The meal was so good that when we came out of the restaurant (its below ground so theres no phone service and none of us had checked our phones) we were shocked to find it was midnight. We had been in the restaurant for ~3.50 hours and not even noticed, thats a testament to the quality of the food and service but also the company, thanks Dave and Chuck for sharing it with me!