In my last blog post I opened with
Well I've just come off my single biggest losing day in my poker history and I feel…. Ok.
I didn't go into any details in that post so I'll quickly recap the day along with an important poker lesson that I learned and hopefully you can learn too for far less money spent.
The game was 50/100 PLO with a weaker player in the game, there was a free seat 2 to the mark's left and I sit down with $10,000, result! Unfortunately, here is where it all went to shit.
I don't play on pokerstars a ton and as a result haven't played with the auto top up settings a ton, having played a few thousand hands of Zoom Poker before the 50/100 shot I had it set to top up to the table maximum (100bb), unbeknownst to me the 50/100 table was a deep ante table so after posting my big blind and playing a single hand I watched my stack balloon to $25,000. This was a huge problem.
I had two very good players on my direct left who both covered me, I knew they were going to make my life very difficult and in a game where I'm trying to lower variance and not play $50,000 pots this is a nightmare. I should have quit instantly at this point but my stubborn nature prevailed, if I quit I lose any chance to play with the fish and due to the anti ratholing protections I'm unable to sit again at the table with less than 25k. With the power of hindsight there is no way I had an edge at that table and remaining in that game is just burning money.
Anyway, I didn't quit and a couple more tables of 50/100 opened up with the mark, I didn't play too many interesting hands and ran pretty bad getting my money in as a favorite and losing and then getting it in drawing dead in a spot I think is pretty standard.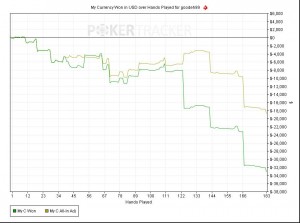 (click for large)
I lost 33k running 15k below ev and decided to quit before I busted my stars account, although I didn't quit initially when I should have I am proud of myself for quitting when I did, an old me would have definitely been tempted to stay and try and get unstuck. In fact later that day I was back to grinding out Zoom $1.00/0.50 PLO and playing reasonably well despite it playing 100 times smaller.
Here are the key hands from the session with a tiny bit of analysis
Hand 1
Obviously I cold 4bet preflop with aces, on the flop its a super dry board and I want to both induce and be able to bluff in this spot for a really good price with a hand like AKQT. I manage to induce from a flush draw and fail to hold, yawn.
MP: $13370.00
CO: $22445.63
BTN: $27676.03
SB: $14253.40
Hero (BB): $9384.00
UTG: $7252.00
Pre Flop: ($150.00) Hero is BB with A
4
K
A

UTG raises to $250, 1 fold, CO raises to $900, 2 folds, Hero raises to $3000, 1 fold, CO calls $2100
Flop: ($6300.00) 2
J
2
(2 players)
Hero bets $1650, CO raises to $7400, Hero calls $4734 all in
Turn: ($19068.00) 3
(2 players – 1 is all in)
River: ($19068.00) K
(2 players – 1 is all in)
Final Pot: $19068.00
CO shows T
8
9
K
(a flush, King high)
Hero shows A
4
K
A
(two pair, Aces and Deuces)
CO wins $19063.00
Hand 2
The 3bet preflop is incredibly standard as is the continuation bet on the flop. The button is a good aggressive reg and definitely capable of making moves on these disconnected paired boards. It's really just a gross spot in which calling feels horrible and folding feels horrible too…. anyway. Once I call the flop I decide to check call shoves on any non rainbow turn, I felt like if he turned any equity he was going to jam with a pot sized bet left behind and any backdoor flush draw increases his bluff combos by a good amount. He happened to be full already and I was drawing to 2 outs, it's a really tough spot and I don't mind my play in real time, but afterwards I felt like I could fold the turn.
Very often when he does have a flush draw on the turn he is going to have at least a gutshot to go with it meaning that while ahead, my equity isn't that good, if you combine that with the times he has a 9 and I'm drawing to 2 outs I think it makes it a fold.
UTG: $12970.00
MP: $32217.88
CO: $28621.03
BTN: $12985.65
Hero (SB): $8392.45
BB: $10000.00
Pre Flop: ($150.00) Hero is SB with K
K
Q
A
3 folds, BTN raises to $250, Hero raises to $850, 1 fold, BTN calls $600
Flop: ($1800.00) 4
9
9
(2 players)
Hero bets $950, BTN raises to $2100, Hero calls $1150
Turn: ($6000.00) 7
(2 players)
Hero checks, BTN bets $5995, Hero calls $5442.45 all in
River: ($16884.90) T
(2 players – 1 is all in)
Final Pot: $16884.90
BTN shows 9
Q
4
3
(a full house, Nines full of Fours)
Hero shows K
K
Q
A
(two pair, Kings and Nines)
BTN wins $16879.90
I vowed I wouldn't play that high again for a while and moved back down to grind a bit, playing mostly between 2/4 and 5/10, this went well and I managed to recoup a fraction of the losses before my trip to London.
Expect part 2 of this blog very soon, including my successful second attempt at 50/100 and dinner with the legendary James "Mr Brighton" Dempsey and Jon Spinks.