I know in my last blog post, Shots at the Highstakes Part 1, I promised I would do a part 2 very soon; however my desire to blog is a very fickle thing and I figure let's just roll with what my heart wants to write, tonight that happens to be the Irish Open and some PLO hands.
Irish Open
My Irish Open was a very brief affair, not only did I fail to make level 3 but I also failed to turn up at the correct time, turning up at a start time I imagined of 12:00PM, 2 hours killed later I sat down at my table and the only person I recognized was Dan Harrington, shortly followed by Freddy Deeb who sat on my direct left. Me and Freddy have quite a lot of history and he loves to play pots with me for some reason and when I raised UTG and got flatted UTG+1 by Freddy with A8o I knew it was going to be an interesting day.
We had our battles back and forth in the first level with most of the pots going my way but nothing that interesting. A friend of mine, Manig Loeser, joined the table and raised his first 3 hands in a row, winning every single one without showdown. The very next hand the following hand happened.
Me: 23,000
Manig: 35,000
Freddy Deeb: 15,000
Blinds: 50/100
Manig raises UTG+1 to 300, folds to me on the button and I look down at QQ. I raise to 800 and Freddy Deeb cold calls in the small blind, Manig thinks for not very long and calls.
The flop is 763 rainbow with one spade, both check to me pretty fast and I bet 1600, Deeb folds and Manig thinks for a short time before calling. Based on his timing and the way he called I was pretty confident he didn't have a super strong hand like a set.
The turn is the 2 of spades bringing a backdoor flush draw and this is a big blank, while myself and Manig don't have any history at the tables we've hung out before and I think he's aware of how aggressive I can be. I bet 4400 and he calls pretty fast.
The river is an offsuit jack and I think the clear best play here is to jam. There is 14,900 in the pot and I have about 16,000 behind. I'm not sure he thinks I would jam this river very thinly at all and I have very few value hands, especially considering the fact that he's raised 4 hands in a row and I've 3bet the button and barreled off on a very good board for it. I wanted to polarize my range pretty hard so he's forced to make a difficult decision and I thought I was being called a lot. Unfortunately he beat me into the pot and happened to have JJ, he later told me he was planning to call on any river, oh well! At least I didn't spend 2 days bubbling.
Manig is currently the chip leader in the money so good luck to him! Also a congrats to my buddy Nick Abou Risk who put together a deep run for a mincash then shockingly lost a flip.
PLO Hands
I'm not going to write too much about the PLO hands, these hands are basically just some fun hero calls that I made based on my reads that happened to be right. I'm sure I'm running above average in terms of my success percentage but I think I had some good logic behind them.
Hand 1
Hero (BTN/SB): $5059.00
BB: $2070.00
Pre Flop: ($30.00) Hero is BTN/SB with 4
Q
8
J

Hero raises to $60, BB raises to $180, Hero calls $120
Flop: ($360.00) 5
A
Q
(2 players)
BB bets $240.00, Hero calls $240
Turn: ($840.00) J
(2 players)
BB bets $520.00, Hero calls $520
River: ($1880.00) A
(2 players)
BB bets $1130.00, Hero calls $1130
Final Pot: $4140.00
BB shows K
6
A
2
Hero wins $4139.00
The first 2 hands are against the same opponent. He started off the match 3betting a lot, so his range is definitely not just aces or high card heavy. This hand is really cool because although at first glance the river looks like a horrible one for my hand it actually improves my hand strength a lot. Almost all players will slow down on the turn with a set, or top 2 pair expecting me to either have a flush a lot and not want to bet themselves off a hand with good equity, they also can't expect to be called by a worse hand if I don't have a flush.
Equally on the river I don't expect him to jam a hand even as strong as the nut flush (although its definitely possible) due to the board pairing, either deciding to turn it into a bluff catcher or check fold.
Hand 2
Hero (BTN/SB): $9133.50
BB: $4108.50
Pre Flop: ($30.00) Hero is BTN/SB with 8
K
5
9

Hero raises to $60, BB raises to $180, Hero calls $120
Flop: ($360.00) Q
A
6
(2 players)
BB bets $240.00, Hero calls $240
Turn: ($840.00) A
(2 players)
BB checks, Hero checks
River: ($840.00) 3
(2 players)
BB checks, Hero bets $560.00, BB raises to $2380, Hero calls $1820
Final Pot: $5600.00
BB shows T
K
2
A
Hero wins $5599.00
This is probably my favorite one, if only for the absurdity of it. This was part of a headsup game vs a very aggressive capable opponent. I think everything up to the river is very standard but this is where it get messed up. Based on the gameflow I didn't think he'd expect me to valuebet or bluff this river very much, I also thought that he'd check a boat to me on the turn very rarely, as well as rarely on the river.
All this combined leads to me thinking I'm very rarely beat, but also I didn't expect to be called by worse very often at all. This bet was 95% made to induce and it worked.
Hand 3
Hero (CO): $3303.00
BTN: $2313.00
Pre Flop: ($30.00) Hero is CO with 4
K
T
K

1 fold, Hero raises to $70, BTN calls $70, 2 folds
Flop: ($170.00) J
7
7
(2 players)
Hero checks, BTN bets $127.50, Hero calls $127.50
Turn: ($425.00) T
(2 players)
Hero checks, BTN bets $318.75, Hero calls $318.75
River: ($1062.50) 6
(2 players)
Hero checks, BTN bets $796.87, Hero calls $796.87
Final Pot: $2656.24
BTN shows J
Q
A
9

Hero wins $2653.24
This was another fun spot, while definitely leaning towards folding the river at first, I then re evaluated the line, timing and sizing on the river. He pretty much instabet the river for a very large amount. I think this removes all flushes from his range and makes his range exclusively full houses. Based on his stabbing and barreling frequencies on the flop and turn and how much stuff missed I think the river is a call and I was lucky enough to be right.
Hand 4
SB: $813.00
BB: $597.70
UTG: $64.00
CO: $400.00
Hero (BTN): $766.90
Pre Flop: ($6.00) Hero is BTN with J
T
8
Q

UTG raises to $14, 1 fold, Hero calls $14, 1 fold, BB calls $10
Flop: ($44.00) 4
9
8
(3 players)
BB checks, UTG checks, Hero bets $25.00, BB raises to $89.25, UTG folds, Hero calls $64.25
Turn: ($222.50) A
(2 players)
BB bets $222.50, Hero calls $222.50
River: ($667.50) 9
(2 players)
BB bets $271.95, Hero calls $271.95
Final Pot: $1211.40
BB shows 2
3
A
5

BB wins $1208.40
And lastly just to show I'm not only posting my correct hero calls heres one I fucked up. He was a spazzy fish and I went for a hero call too far.
—
Altogether those hero calls combined with some rungood have lead to a solid month so far, I have no more live tournament plans until UKIPT Nottingham next week so hopefully I can keep grind on the mind!
Here is my month so far: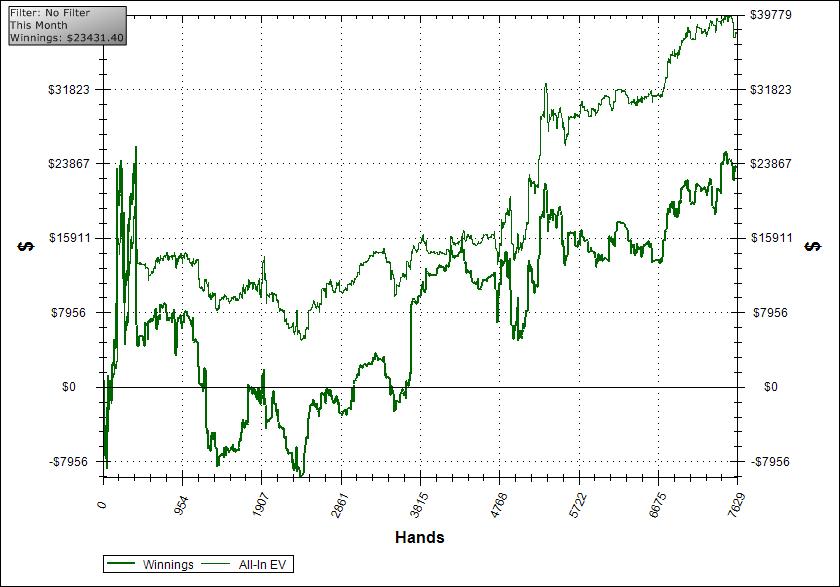 Happy Easter and good luck to everyone
Max